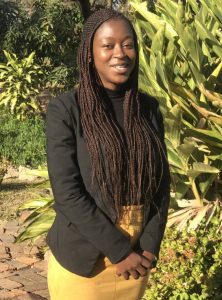 Warm Greetings from Zimbabwe. My name is Nedine Manyemba, an African Woman Theologian in the Anglican Church of Zimbabwe CPCA. During the COVID-19 pandemic peak period 2020-2021, I witnessed God's hand at work in Zimbabwe. Over the past years, the health system has deteriorated drastically, and when COVID-19 hit Zimbabwe the worst was expected. However, God in his amazing ways preserved much life and the church was a beacon of light during this dark period of uncertainty.
When the lockdown was introduced, the Church's life continued as online services were introduced. This helped to keep people connected as they worshiped together. The lockdown brought some abnormalities to everyday life as people went into isolation and suffered from depression loneliness. The lockdown also resulted in an increase of different forms of abuse. The Church prayed for people and stood by those who had lost their loved ones. When vaccinations were introduced, the Church encouraged people to get vaccinated.
The lockdown was a huge blow on the nation's economy as the majority of the people are informally employed. This meant that the source of income for three-quarters of the population was instantly shut down too. However, the Church and faith-based organisations played a huge role in helping the communities by carrying out food distributions.
As the pandemic is slowly fading away, Zimbabwe is warming up for the 2023 presidential elections which in previous years were marred with violence. The church is already advocating for non-violent elections. As we thank God for preserving much life during the pandemic, we also pray for peace to prevail in Zimbabwe as we prepare for elections. The Church continues to call for peaceful, free, and fair elections. God's hand that led us through the dark path of the COVID-19 pandemic will lead us through the Presidential elections. I pray that the pandemic fades away and peace will prevail in Zimbabwe during the election period.