The Companions of the Center for Anglican Communion Studies at Virginia Theological Seminary (VTS) is an important group that not only connects the VTS community with the rest of the Anglican Communion, but also bridges the gap between different provinces within the Anglican Communion. Companions provide integration interculturally. They provide a safe space where Christians and Church leaders from the Anglican Communion can share deeper engagements and conversations about reconciliation, justice, repentance, migration, liturgy, among others. The Companions also provide a safe space where we as Christian and leaders of the Church build relationships across our cultures.
First, before I say what motivated me to join the Companions, I would like to thank CACs for establishing the Companions here at VTS, because there has been a lack of intercultural engagements and conversations beyond the Seminary experience for seminarians from the Global South who have completed their studies. I joined the Companions because this group endeavors to reconnect all Church leaders within the Anglican Communion, allowing us to come together and share our different intercultural gifts and experiences.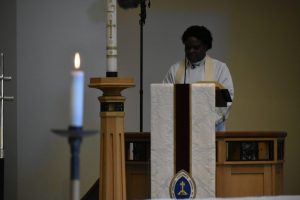 As one of the pioneers of the Companions, I am now part of a global conversation. I cannot forget to mention, the Archbishop of Canterbury's presentation during the Companions dinner on April 28, 2022. Archbishop Welby's comment about what the Companions offer sticks with me. To paraphrase his words, as Christians, we must be willing to be vulnerable, to ask for forgiveness, to repent, and to be ready to confess the blame whenever our people have caused pain to others. Through the Companions, I had the chance to celebrate the Holy Eucharist with the Archbishop of Canterbury, the Most Reverend Hon. Justin Welby. This act of sharing the Lord's table with the Archbishop was a sign that the Companions treasure our intercultural experiences. I am motivated to work for reconciliation, because I continue to learn and discern Christ in love together with my neighbors. I encourage Church leaders to join the Companions.
The Rev. Carolyne Adhola '23