On Monday, February 14th, the Center launched our new membership group, The Companions of the Center for Anglican Communion Studies. As we know, there is a hunger in our world for connection and community and for delving deeper into the issues that inspire and trouble us.
By Feb. 16,we had 100 Companions registered and now we are at 138! Our goals in launching the Companions' goals are increased engagement with our programs and a stronger connection with our friends.  And, as Dean Markham wrote in his Commentary announcing the Companions, our goals go deeper:
"In short, the Companions of CACS is a way to gather Anglicans together for reflection on various pressure points within Anglicanism itself: conversations about migration, justice, liturgy, reconciliation (the list could go on). These conversations provide an opportunity for communion: to learn and discern Christ together with love."
We hope readers of this Anglican Commentary will take this opportunity to join us in the journey. There is no cost or expected donation to join the Companions; we only ask members to commit to attending three CACS events a year.
In return, we are pleased to make available a few special opportunities for Companions:
An invitation to our first annual, members-only event on April 28, 2022 with the Most Rev. Justin Welby, Archbishop of Canterbury),
An annual opportunity to advise the Center's leadership,
Free publications, and
Updates on CACS events, resources and opportunities.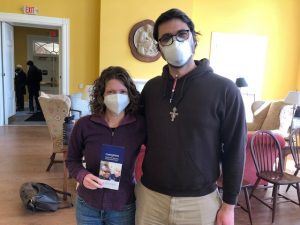 You'll be joining us in our ministry to equip international community, empower intercultural leaders, and enrich Episcopal-Anglican identity. Whether you're based in the Virginia Theological Seminary region, across the United States of America, or around the world, we hope you'll join the Companions.
The launch of the group on campus at VTS was held in the Refectory, where we welcomed students, faculty, and staff as they joined the Companions! Visit our Facebook page to see pictures and view our new video series about the Companions.  And, as always, if you have any questions or suggestions, please email us at cacs@vts.edu.