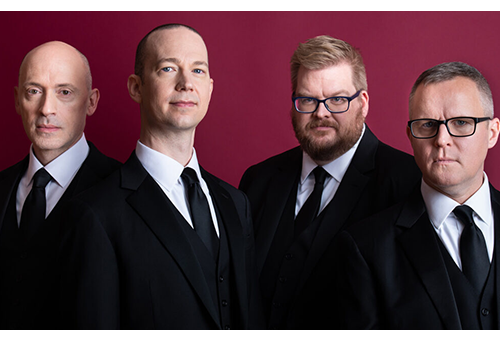 New York Polyphony | Immanuel Chapel Concert Series
"…singers of superb musicianship and vocal allure," (The New Yorker) give vibrant, modern voice to repertoire
The program will include:
Crux triumphans – Loyset Compère (c. 1445-1518)
Lamentations for Good Friday (Feria VI) – Francisco de Peñalosa (1470-1528)
Taaveti laul – Cyrillus Kreek (1889-1962)
Lamentations of Jeremiah – Thomas Crecquillon (c. 1505-1557)
Lamentations of Jeremiah I – Andrew Smith (b. 1970) composed for New York Polyphony
Officium de Cruce – Loyset Compère (c. 1445-1518)
This event is sponsored by the Worship Department.
Admission is free with advance registration through Eventbrite.
Virginia Theological Seminary is pleased to open our events to fully vaccinated guests. During the event, mask-wearing is required.
About the Artists
Praised for a "rich, natural sound that's larger and more complex than the sum of its parts," (NPR) New York Polyphony is one of the foremost vocal chamber ensembles active today. The four men, "singers of superb musicianship and vocal allure," (The New Yorker) give vibrant, modern voice to repertoire ranging from Gregorian chant to cutting-edge compositions. Their dedication to innovative programming, as well as a focus on rare and rediscovered Renaissance and medieval works, has not only earned New York Polyphony two GRAMMY nominations and wide acclaim, but also helped to move early music into the classical mainstream.
New York Polyphony tours extensively, participating in major concert series and festivals around the world. Noteworthy engagements include performances at Wigmore Hall in London and the Concertgebouw in Amsterdam, a residency at Stanford University, the 2018 European première of The Vespers Sequence–a work commissioned from Ivan Moody–at Musica Sacra Maastricht (the Netherlands), and performances at the Tage Alter Musik Regensburg (Germany), Festival Internacional de Música Abvlensis (Spain), Stavanger Kammermusikkfestival (Norway), Cartagena Festival International de Música (Colombia) and Early Music Vancouver (Canada), among others.
In early 2021, New York Polyphony released And the sun darkened on BIS Records. Hailed by BBC Music Magazine as "imaginatively programmed" and "immaculately sung," the album has received accolades from publications around the world. Early Music America called the disc "radiant," and Klassik Heute applauded New York Polyphony's "flawlessly pure sound that amazes the listener."
In 2020, New York Polyphony released Aleph Earth, a groundbreaking audiovisual work developed in collaboration with the University of Oregon's Artificial Intelligence Creative Practice Research Group (AICP). A statement on the global threat of climate change, the 12-minute presentation was created using artificial intelligence to visualize the musical complexities of Spanish Renaissance composer Francisco de Peñalosa's Lamentationes Jeremiae Feria V, a work featured on their acclaimed BIS Records release Lamentationes.
New York Polyphony is:
Geoffrey Williams, countertenor
Steven Caldicott Wilson, tenor
Andrew Fuchs, tenor
Craig Phillips, bass
About the Immanuel Chapel Concert Series
The Immanuel Chapel Concert Series at Virginia Theological Seminary provides educational opportunities for the Seminary community and outreach to Metropolitan Washington, with particular emphasis on sacred choral and organ music in the Anglican tradition.
COVID Safety Requirements
Visitors to campus should be vaccinated and boosted. While indoors, all attendees are expected to wear masks.