Date: May 7, 2021
I am pleased to announce that the Ven. Jennifer McKenzie '04 will be joining the Seminary community as the Dean's advisor for new initiatives on September 1, 2021.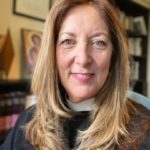 In this role, Jennifer will be providing expertise in the post-pandemic church, bringing insights from the United Kingdom to the United States in congregational studies and strategic planning, and serving as the Seminary representative on the Triangle of Hope and other projects.
A 2004 M.Div. graduate, Ven. McKenzie currently serves as the archdeacon of Wigan and West Lancashire in the Diocese of Liverpool, UK, as well as serving as Canon at Liverpool Cathedral. Prior to her position with the Diocese of Liverpool, she served as assistant rector at St. David's Episcopal Church, Washington, DC, associate rector of Christ Church, Alexandria, VA, interim associate rector of the Church of the Good Shepherd, Burke, VA, and priest-in-charge of Epiphany Episcopal Church, Oak Hill, VA.
Please join me in welcoming Jennifer back to Virginia Seminary.
The Very Rev. Ian S. Markham, Ph.D.
Dean and President