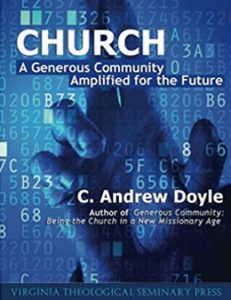 5/26/2015
FOR IMMEDIATE RELEASE
Media Contact: Curtis Prather
Tel: 703-461-1782
Email: cprather@vts.edu
Alexandria, Va. – Virginia Theological Seminary (VTS) announces the publication of Church: A Generous Community Amplified for the Future (VTS Press, 2015), written by the Rt. Rev. C. Andrew Doyle ('95), the the ninth Bishop of Texas.
Church casts a vision of the Church with clarity and hope, life-giving principals that will guide the future Church, a significant navigational tool for anyone who stand at the helm of a Christian community. In a world of volatility, uncertainty, complexity, and ambiguity. Church is one of the most hopeful, realistic, enthusiastic, positive, informed, and empowering assessments to date of where we are today as Christians and as the Episcopal Church empowering assessments of where we are today as Christians and as the Episcopal Church and how we are step into our future.
"This is a substantial text from a gifted bishop," said the Very Rev. Ian S. Markham, Ph.D., dean and president of VTS. "It is a remarkable study of trends and possibilities in the Church. From the desk of an academic, this would be remarkable; from the desk of a busy bishop responsible for a large and complex diocese, it is extraordinary. This is book that is worthy of study and application. It sets a new agenda for the next decade of the Episcopal Church."
A companion book to Doyle's forthcoming book A Generous Community: Being the Church in a New Missionary Age (Church Publishing, 2015), Church: A Generous Community Amplified for the Future is recommended to thought leaders in the Episcopal Church; clergy, pastors, deacons, theologians, missionaries, and lay leaders working on God's mission of reconciliation.
"My hope is that this text will offer leaven to feed the Church's imagination," said Doyle. "It is an offering to God and the Church. It is an offering to all those who have lost hope in their church over the last two decades. Most of all, it is an offering for those who deeply desire to be part of what God is doing in the world around us. It is you, the imaginative lover of Jesus, passionate missionary, and worldly pilgrim, whom I hope to engage in a discussion about the future."
---
Founded in 1823 as a beacon of hope in a country new and finding its way, Virginia Theological Seminary has led the way in forming leaders of the Episcopal Church, including: the Most Rev. John E. Hines (VTS 1933, D.D. 1946), former presiding bishop of the Episcopal Church; the Rt. Rev. John T. Walker (VTS 1954, D.D. 1978), the first African-American bishop of the Episcopal Diocese of Washington; and theologian, author and lay preacher Ms. Verna J. Dozier (VTS D.D. 1978). Serving the worldwide Anglican Communion, Virginia Theological Seminary educates approximately 25% of those being ordained who received residential theological education. Visit us online at www.vts.edu.