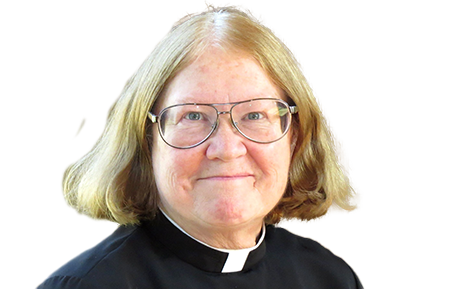 The Rev. A. Katherine Grieb, Ph.D., is an affiliated faculty member and director of the Center for Anglican Communion Studies. She joined the
VTS

faculty in 1994. Her expertise includes Greek language, New Testament Interpretation, Romans, Hebrews, social justice, Biblical storytelling, and theatre. Before coming to 

VTS

, she taught at Bangor Theological Seminary.
Dr. Grieb received her B.A. in Philosophy and Religion from Hollins University, her J.D. from Columbus School of Law (Catholic University of America), her M.Div from VTS, her Ph.D. (with distinction) in Religious Studies (Theology) from Yale University, and her L.L.M. (with distinction) in Canon Law from Cardiff University School of Law.
Ordained to the diaconate and priesthood in the Diocese of Washington in 1983, she serves part-time at St. Stephen & the Incarnation Episcopal Church in Washington, DC.
Dr. Grieb co-founded the Pauline Soteriology Group at the Society for Biblical Literature and has served on several related committees, including a term on the Board of the Journal of Biblical Studies. She was President of the Mid-Atlantic Region SBL in 2006-2007. She is currently on the board of the Journal of Theological Interpretation and a member of the SBL group on Theology and the Bible, as well the Anglican Association of Biblical Scholars and the Society for the Study of Anglicanism. Dr. Grieb is a member of the Theology Committee of the House of Bishops of the Episcopal Church and represented the Episcopal Church at the World Council of Churches Plenary Session in 2009. She was one of seven theologians asked to write To Set Our Hope on Christ, in response to the Windsor Report. She was a member of the Anglican Communion Covenant Design Group.
Currently, Dr. Grieb is a member of IASCUFO (the Inter-Anglican Standing Commission on Unity Faith and Order) of the Anglican Communion and teaches regularly at the Canterbury Scholars program at Canterbury Cathedral. A popular preacher and teacher, she leads retreats and Bible studies for diocesan clergy days and other church groups.
Dr. Grieb has authored many articles and book chapters related to the New Testament, theological interpretation of Scripture, and preaching. She published The Story of Romans in 2002 with Westminster John Knox. She Co-edited The Word Leaps the Gap, published with Eerdmans in 2008. She is presently writing on Hebrews and on the Sermon on the Mount.