I was introduced to the Center for Anglican Communion Studies when my friend David Chavez asked me to attend his February talk on border ministry at Virginia Theological Seminary. As I came in the door of the Lettie Pate Evans Room, Rev. Grieb not only welcomed me, she invited me to become a Companion of the Center for Anglican Communion Studies. I did.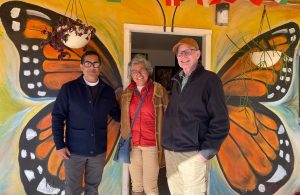 David's subject touched my heart. He's the Canon for Border Ministries of the Diocese of Arizona, and I'm a leader of the Washington National Cathedral Sanctuary Ministry. 
Our Cathedral ministry is currently welcoming a young Venezuelan couple and their two boys ages 4 and 18 months. They arrived with nothing after an arduous journey through jungles and over mountains. Our Neighbor-to-Neighbor team is paying visits, learning their needs and offering six months of support as they start their new life here. We partner with Episcopal Migration Ministries in carrying out Neighbor-to-Neighbor, an innovative new program of welcome.
Sacred welcome, central to our faith, is a core principle of the Washington National Cathedral: ". . . and he welcomed them and spoke to them about the kingdom of God and healed those who needed to be cured." (Lk 9:11)
You need an Anglican Communion to carry out this core principle globally. That's why I was pleased to hear Archbishop Justin at the CACs April dinner urge the Church to face outward to challenges of our world instead of turning inward. Globally, ours is the greatest period of migration now on record. For the Anglican Communion, acts and attitudes against the dignity of God's children, including mistreatment of ethnic minorities, migrants and refugees, are sin (Lambeth Call on Human Dignity, 2022).
During a recent Arizona/Mexico visit, I witnessed sacred welcome firsthand. Just over the border in Nogales, Mexico is the jewel in the crown of the Diocese of Arizona's border ministry, La Casa de la Misericordia. Inspiringly led by Sister Angelica Bacias Mejia, "La Casa" shelters hundreds of men, women and children, and provides legal and medical support before their northward journey. Over 900 have legally and successfully entered the United States this past year.
As Anglicans and Episcopalians, we walk together with our neighbors. I thought about that on the morning David, Sister Angelica and I walked two migrant families, papers clutched in their hands, to the U.S. entry turnstile at the Nogales, Arizona port of entry. The mom and daughter pairs, from Mexico and Guatemala, were heading for Atlanta and Los Angeles. Even though we were still in Mexico, instinctively, my first words to our friends were "bienvenido a los Estados Unidos," welcome to the United States.
Martin Dickinson
Washington National Cathedral Sanctuary Ministry