Date: December 26, 2021
Today, Virginia Theological Seminary honors the memory of the Most Rev. Desmond Tutu, D.D. '98 (H). He stands as a giant in our Church – a tireless advocate for justice, a witness to an inclusive church, and a passionate preacher of the Gospel. He was also a good friend of Virginia Theological Seminary. He stayed frequently on the campus; he was a recipient of an honorary doctorate; and he was the co-chair of the capital campaign for the Chapel. He could be funny, powerful, engaging, and insightful – all at the same time. He changed the history of South Africa and of the entire world through his witness. On this day, we pray for the family of the Archbishop as they mourn. And we know that he will be received by the angels and the saints into glory.
O God, whose mercies cannot be numbered: Accept our prayers on behalf of your servant Desmond and grant him an entrance into the land of light and joy, in the fellowship of your saints; through Jesus Christ our Lord, who lives and reigns with you and the Holy Spirit, one God, now and forever. Amen.
The Rev. Ian S. Markham
Dean and President
Archbishop Desmond Tutu.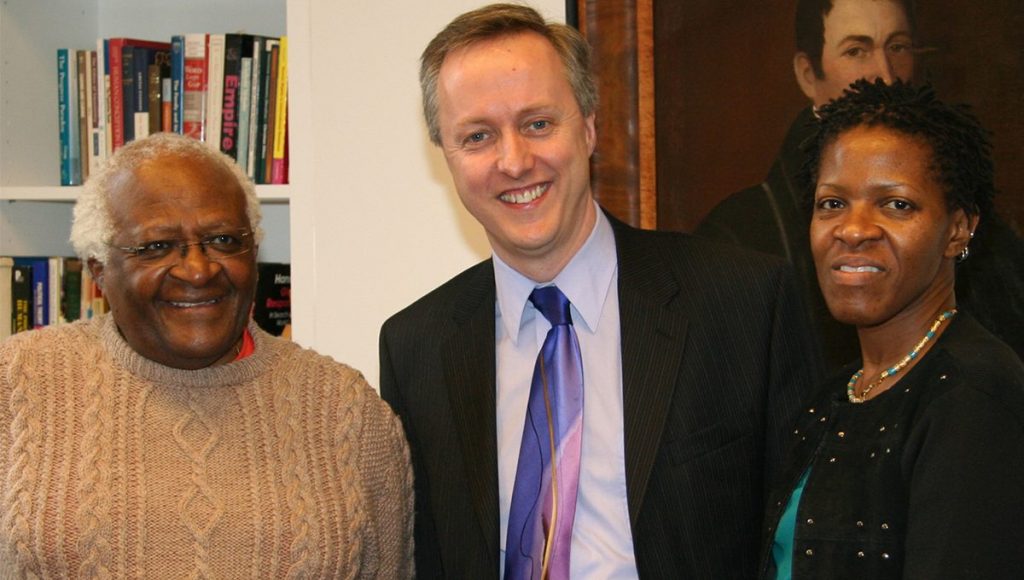 Bishop Desmond Tutu, Dean Ian Markham, and Mpho Andrea Tutu in 2008.
A group of honorary degree recipients in 1998 with Bishop Peter Lee and Dean Martha Horne.