Date: April 7, 2021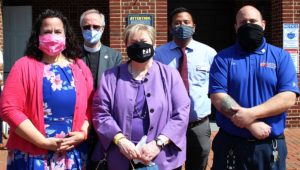 The act of hospitality was the reason for the visit. As part of our Christian witness, we invited Neighborhood Health to use our Chapel as the venue to vaccinate their clients. In a season of pandemic, the Chapel was needed to care for the physical body; this was our Christian obligation. The President wanted to visit a vaccination clinic; in so doing, the President visited Virginia Theological Seminary.
It was an honor to receive the President. It was a team effort. Facilities, especially Tim Lawhorn and John Erbe, came in over the weekend to prepare the Chapel to become the venue. Elizabeth Panox-Leach joined the press pool as the Seminary photographer. Reggie Gravina was on the campus all day Saturday and much of Monday. Ruthanna Hooke stepped out of her Good Friday observance to assist with the advance team as they thought about possible venues. Nurse Julia Dominic provided the mandatory COVID test required of anyone about to be near the President. I am deeply grateful to them all.
The President wanted to highlight the importance of getting vaccinated. So please allow me to reinforce that message. I have been vaccinated; many in the Seminary have been vaccinated. It is the gift we can give each other as we strive to keep each other healthy and well.
The Very Rev. Ian S. Markham, Ph.D.
Dean and President