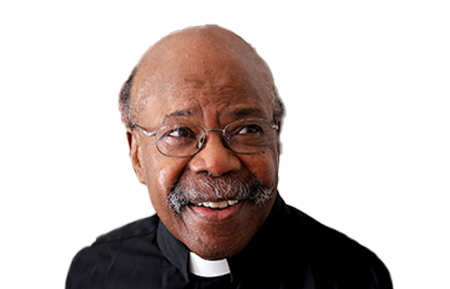 The Rev. Elbert Ransom, Jr., D.Min., is an ordained minister, international lecturer, author, seminary instructor, and musician.
Dr. Ransom is regularly called upon by the U.S. Department of State to travel to many countries abroad to speak on the subjects of democracy, human rights, and nonviolence as an agent toward social change. He has traveled to Papua New Guinea, Solomon Islands, Vanuatu, and Australia. He has also traveled to the continent of Africa, London, Oslo, Turkmenistan, Ukraine, Dublin, Kosovo, Bangkok, Austria, Switzerland, Japan, and several cities in Brazil. Additionally, in 1999, he traveled to Seoul, Hong Kong, and mainland China for the Baptist World Alliance. In addition to his State Department junkets, he has preached the gospel in many churches around the world, including in Westminster Abbey.
As a civil rights activist from 1954 to 1968, and an aide to the late Rev. Dr. Martin Luther King, Jr., he participated in the Montgomery Bus Boycott, the 1963 March on Washington, the March 1965 Selma to Montgomery Voters Rights march, and the 1966 Open Housing demonstrations in Chicago. He was also the City Manager of Resurrection City (Poor Peoples Campaign) in 1968. He has authored and published inspirational books, I Shall Not Pass This Way Again, Bridging the Divide, and Let The Church Be The Church. Among his many interests, he is, currently an adjunct professor at the Virginia Theological Seminary in Alexandria, Virginia, and is President of REACH, Incorporated, an international human relations firm.
He earned a Doctor of Ministry degree from Wesley Theological Seminary in 1995, his Master of Divinity degree from Howard University School of Divinity in 1989, both in Washington, D.C., his B.S. degree from Xavier University, New Orleans in 1959. His first two, years of undergraduate studies (1954–56), were done at Alabama State College for Negroes, Montgomery, AL, (now known as Alabama State University). He studied voice at Roosevelt University in 1962 and the American Conservatory of Music in 1960, both in Chicago, IL.
He has been married to his wife Louise for the past 47 years, and from this union, they are the parents of three adult children and eight grandchildren. He and his wife reside in Lake Ridge, Virginia.