Date: February 17, 2022
NEW ORLEANS – On Sunday, February 13, the Very Rev. Ian S. Markham, Ph.D., dean and president of Virginia Theological Seminary (VTS), and the Rev. J. Barney Hawkins, Ph.D., director of the Historic Bicentenary, conferred the Dean's Cross for Servant Leadership in Church and Society to the Rev. Canon William Barnwell '67 (posthumously) and Corinne Barnwell at Trinity Episcopal Church in New Orleans, LA. The Barnwells are veterans of the Civil Rights movement and lifelong activists against racism and injustice. They gave their lives to faith and justice, to reconciliation, and to the righting of the country's social order.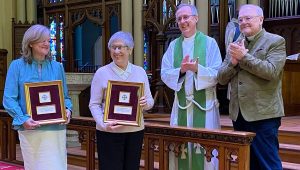 Established in 2008, the Dean's Cross recognizes outstanding leaders who embody the baptismal vows to "strive for justice and peace among all people and respect the dignity of every human being." Selected annually by the Seminary's dean, in consultation with the chair of the Board, the honorees receive a certificate and a handmade silver cross, modeled after the cross that stood on the steeple of the 1881 Chapel and now installed on the eastern wall of Immanuel Chapel. "William and Corrine Barnwell are models of prophetic ministry: it is a privilege to recognize their remarkable achievement," said Markham. "They have advanced the kingdom in key ways."
Read Corinne's citation here and the letter from the Rev. Dr. Samuel T. Lloyd, III nominating the Rev. Canon William Barnwell to receive the Dean's Cross here. Past recipients of the Dean's Cross for Servant Leadership in Church and Society include Barbara Bush, Wendell Berry, Madeleine Albright, Alfred R. Berkeley III, Muriel Van Dusen Berkeley, Phoebe Griswold, Charles F. Bolden Jr., the Rt. Rev. Carolyn Tanner Irish '83, and Lonnie Hamilton III.
###
Founded in 1823 as a beacon of hope in a country new and finding its way, Virginia Theological Seminary has led the way in forming leaders of the Episcopal Church, including the Most Rev. John E. Hines (VTS 1933, D.D. 1946), former presiding bishop of the Episcopal Church; the Rt. Rev. John T. Walker (VTS 1954, D.D. 1978), the first African-American bishop of the Episcopal Diocese of Washington; and theologian, author and lay preacher Ms. Verna J. Dozier (VTS D.D. 1978). Serving the worldwide Anglican Communion, Virginia Theological Seminary educates approximately 25% of those being ordained who received residential theological education. Visit us online: www.vts.edu.