Date: March 3, 2022
FOR IMMEDIATE RELEASE
Media Contact: Elizabeth Panox-Leach
Tel: (703) 461-1764
Email: epanox-leach@vts.edu
ALEXANDRIA, VA – Virginia Theological Seminary (VTS) announces the addition of Forma as a ministry of Lifelong Learning at VTS through an agreement with the Episcopal Church Foundation (ECF) and the Forma Advisory Committee.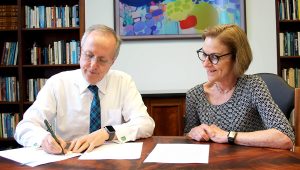 "Welcoming Forma to our VTS family feels like a homecoming. The Seminary's commitment to Christian formation is deep and broad," said Elisabeth Kimball, Ph.D., associate dean of Lifelong Learning. "Having an extended network of practitioners more regularly engaged in our ministries has the potential to transform Christian formation on the ground and in the academy."
Previously a ministry of ECF, Forma is the network for Christian formation for The Episcopal Church and beyond. It includes members from across the United States, Canada, Mexico, South America, and Europe. Forma is independent of The Episcopal Church and still, closely partners with the church's Office for Formation Ministries.
Forma will fit well into the portfolio of Lifelong Learning, which seeks to meet the continuing education needs of lay and clergy leaders while increasing access to and utilization of ministry resources. Both the Lifelong Learning team and the Forma Advisory Committee look forward to sharing in ministry together.
Lifelong Learning is a department of VTS grounded in baptismal theology and research-based practices to provide transformational learning for courageous leadership in a changing church. It offers continuous opportunities for theological education in the service of faithful leadership and has a long-standing commitment to the formation of Christian formation leaders in The Episcopal Church and beyond.
Episcopal Church Foundation is an independent, lay-led, and inclusive organization founded in 1949 that helps build, vitalize and transform Episcopal faith communities focusing on formation, finance, and resources. Their purpose is to be a catalyst, agent, and advocate for transformation, renewal, and growth in The Episcopal Church in practical, innovative, and spiritually-grounded ways.
###
Founded in 1823 as a beacon of hope in a country new and finding its way, Virginia Theological Seminary has led the way in forming leaders of the Episcopal Church, including the Most Rev. John E. Hines (VTS 1933, D.D. 1946), former presiding bishop of the Episcopal Church; the Rt. Rev. John T. Walker (VTS 1954, D.D. 1978), the first African-American bishop of the Episcopal Diocese of Washington; and theologian, author and lay preacher Ms. Verna J. Dozier (VTS D.D. 1978). Serving the worldwide Anglican Communion, Virginia Theological Seminary educates approximately 25% of those being ordained who received residential theological education. Visit us online: www.vts.edu.