Date: July 18, 2023
The Dean's Cross was awarded to Twiggs in recognition of his accomplishments as an artist exploring themes of American history and contemporary society.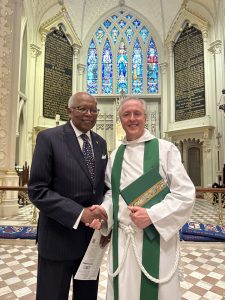 ALEXANDRIA, Va., July 18, 2023 – Virginia Theological Seminary (VTS) has awarded the Dean's Cross for Servant Leadership to Leo Franklin Twiggs, Ph.D., in recognition of his accomplishments as an artist exploring themes of American history and contemporary society. The Dean's Cross, which is the Seminary's highest honor, was awarded to Twiggs at Grace Church Cathedral, Charleston, S.C., on Sunday, July 16, 2023, by The Very Rev. Ian S. Markham, Ph.D., dean and president of VTS.
The citation read: "Virginia Theological Seminary wishes to honor you, an amazing Child of God, with its highest honor. We salute you because you have been about 'good trouble' all your life. You are a preacher-prophet extraordinaire with your paintings. You have said that 'art is the repository of human experience'. Your art is also a window into the Creator's hope for the human family. Your art is a 'thin place' where heaven touches earth and earth touches heaven."
Twiggs is a renowned artist who works primarily in batik. He describes his art as having deep roots in his experiences growing up in the South. Among the many works for which Twiggs is known is a series of nine paintings, titled "Requiem for Mother Emanuel," which commemorate the nine victims of the 2015 shooting at the Emanuel African Methodist Episcopal Church, in Charleston S.C.
He was the first African American to earn a doctorate in art education from the University of Georgia in 1970, and the first artist from South Carolina to receive the prestigious 1858 Prize for Contemporary Southern Art in 2018. In addition, Twiggs has been awarded two Elizabeth O'Neill Verner Governor's Awards for the Arts, and the Order of the Palmetto, the highest civilian honor South Carolina bestows. In 2020, he was inducted into the South Carolina Hall of Fame.
VTS is honored to have two of Twiggs' paintings in its collection. One large painting captures the death of George Floyd in 2020, a tragedy which launched the national Black Lives Matter movement. This painting of "sin" is paired with a hopeful painting of "grace" which honors, in part, The Most Rev. Michael Bruce Curry, presiding bishop and primate of The Episcopal Church.
Established in 2008, the Dean's Cross recognizes outstanding leaders who embody the baptismal vows to strive for justice and peace among all people and respect the dignity of every human being. Recipients are selected annually by the Seminary's dean and president, in consultation with the chair of the board. They receive a certificate and a handmade silver cross, modeled on the cross that stood on the steeple of the Seminary's 1881 Chapel.
Previous recipients of the Dean's Cross include former First Lady Barbara Bush, poet and novelist Wendell Berry, former Secretary of State Madeleine Albright, and Pulitzer Prize-winning author Jon Meacham.
Notes to editors:
For media enquiries, please contact Nicky Burridge, vice president for communications at VTS.
Tel: (703) 461-1782
Email: nburridge@vts.edu
About Virginia Theological Seminary:
Virginia Theological Seminary was founded in 1823 by St. Paul's Church in Alexandria, Virginia. It is the strongest seminary in the Anglican Communion and has a long tradition of shaping faithful women and men, lay and ordained, for leadership in The Episcopal Church and beyond. Visited by three Presidents, the seminary provides more than 25 percent of the clergy of The Episcopal Church.